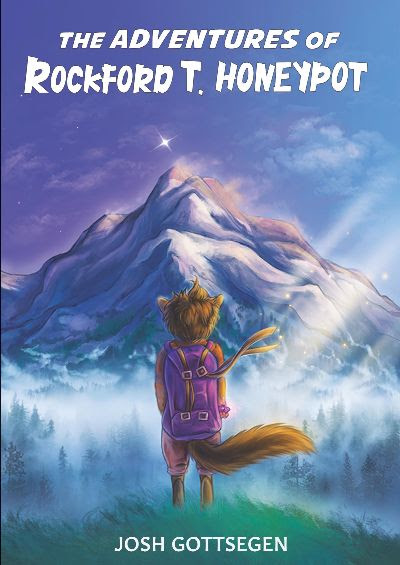 "The Adventures of Rockford T. Honeypot" is an epic story of a chipmunk who discovered meaning and purpose while pursuing his ambitious dreams to change the forest forever.
Josh Gottsegen's "The Adventures of Rockford T. Honeypot,"  is now available for through Amazon and iBooks. This quick-paced and fun new adventure novel incorporates strong values while teaching important life lessons. One of the best books for kids and families to read today, "The Adventures of Rockford T. Honeypot" is filled with thrilling, comedic, and sometimes harrowing tales to help children understand the importance of not giving up on their dreams, even when faced with adversity.
Synopsis
As a young chipmunk, shy, bookish Rockford T. Honeypot had dreams of thrilling adventures across the forest. However, timid of danger and germs, his only adventures were found in books and his imagination. When his family abandons him after a mistake that destroys their hazelnut business, Rockford sets off on a legendary journey beyond his wildest dreams. From exploring cuisines with a famous chef, training with ancient warrior monks, flying on giant hawks, finding true love, and much more, Rockford recounts his epic origin story of hardship, perseverance, and fortune.
About the Author
Los Angeles native Josh Gottsegen has a background in filmmaking and digital media and is the author of "Joosh's Juice Bar," an early elementary school children's book series that encourages healthy eating habits through vivid illustrations and Dr. Seussian-style rhymes. Earning his BA in Film Studies at the University of California Santa Barbara, Gottsegen has won numerous awards for his short films and video productions. Starting professionally at NBCUniversal Interactive, later Josh Gottsegen moved into editing as well as other creative projects for the Walt Disney Company, Fox Corporation, IMG, and the NFL.
Thoughts
It took me only one afternoon to read the entirety of this book. Shirking other responsibilities, and allowing my daughter to watched youtube videos, I sat on my couch and enjoyed the adventures of Rockford T. Honeypot. His #Rockford #OriginStory tells of his life and the obstacles he has had to face. With the help of some friends along the way, Rockford T. perseveres and follows his dreams. There were many quotes that spoke to me about not giving up, even when things get really hard.
This story transports you to another reality, which is great at a time like this when we are all stuck at home with no adventure in sight. From flying on the backs of hawks, to climbing up mountains, you will not want to put this book down!
The book is easy to read, but does not "dumb things down" with language or vocabulary. The story is family-friendly and would be a great read before bed.
Nothing is impossible. I never give up. Live long and blossom.