Review: Children's E-books

I was given the opportunity to review two children's books. At first I thought I would be reviewing actual books, but it turned out that these are e-books. I myself am LOVE e-books and much prefer them over paper because it is lighter, easier to turn the page, and keeps my spot without me having to scrounge up a book mark. I also like to be able to read where ever I am, whether it be on my ipad, cell phone, or kindle.
I am unsure about picture E-books. I really think children have enough screen time as it is and that reading a children's picture book shouldn't be something that requires a device.
Regardless…on to Animals Tails
….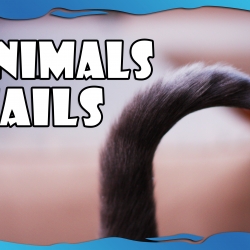 Looking at the cover it looks like it will be a cute book, maybe one where you have to guess what animal the tail belongs to. I was wrong. I like my idea better, but this book is pretty informative. It shows pictures of different animal tails and explains why they are useful. For example: [Dogs wag their tails for communication. Their tails help to understand their moods. They most often wag their tails when they are happy. Sometimes they wag their tails when they are angry. And they keep their tails down when they are sad.]
So, even though it was not what I was expecting, it was an interesting book. I read the book using the Kindle Cloud Reader on my laptop (because my ipad was not charged) and I noticed some of the formatting of the pages was a little off. I also found it interesting that all of the pictures in the book are taken from Flickr and are not original photos for the book.
Look out for my additional review from the book Amazing Facts about SHARKS
!
---
I received one or more of the products mentioned above for free using Tomoson.com. Regardless, I only recommend products or services I use personally and believe will be good for my readers.