Game Review: Personally Incorrect
Back in February I attended the NY Toy Fair. Two entire floors of the Javits Conference Center were filled to the brim with companies displaying their products. I saw a lot of Disney Products, children's wearables, books, and more.  But not everything at the Toy Fair was a kid's toy! One of the games that I had a chance to check out was the game Personally Incorrect
.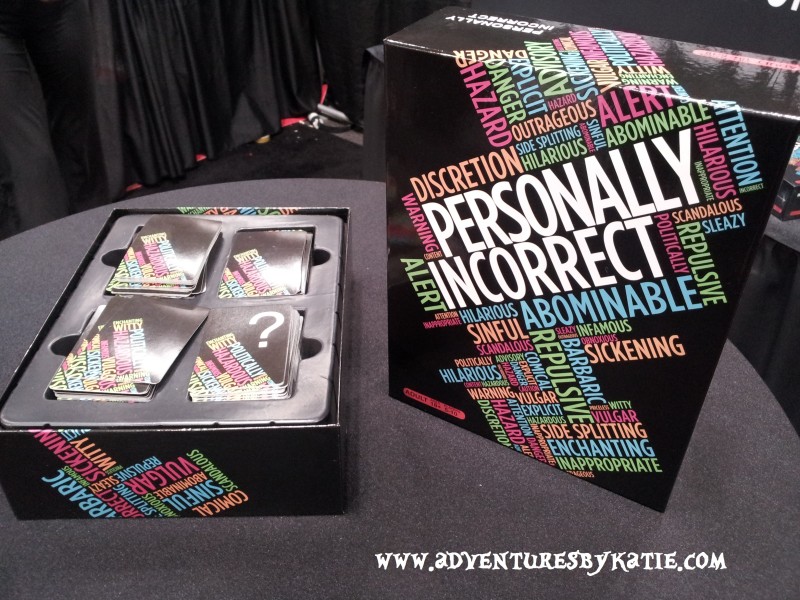 I got to quickly learn about this game while visiting the booth, but wanted to actually play it and see what it was all about. So, I was super excited when they sent me a copy for review! I gathered a few of my friends and set out to play.
Game play is rather easy.  Every turn a player will read a Question card, inserting another player's name into the "Insert Name" quotations. The rest of the players will simultaneously select an answer from  the 10 in their hand and give it to the player who read the question. The reader then reads each card out loud and then everyone votes for the best answer. The last voter doesn't count, so it pays to be quick, or strategic. The player whose answer received the most votes now wins the Question card and the round ends. At the end of 10 rounds the player with the most question cards is the winner.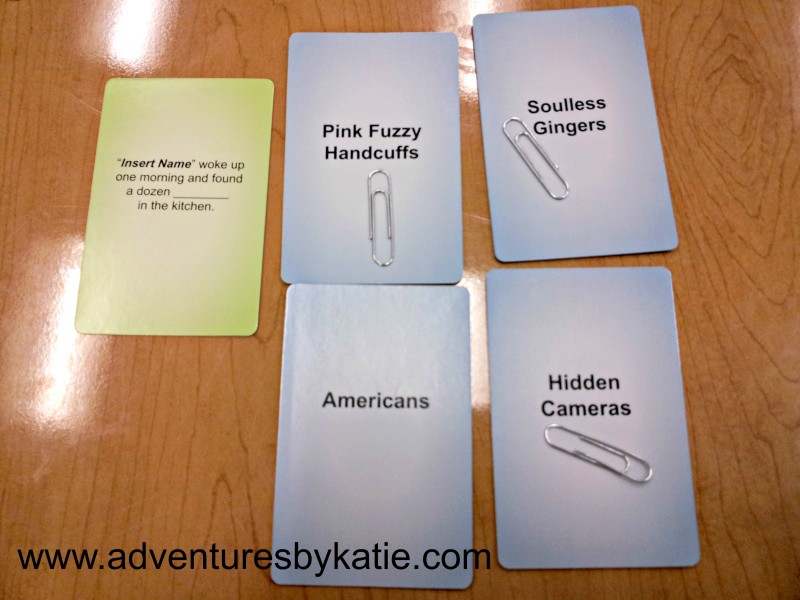 The Verdict
Guess what, I won! Yay! The game was fun and gave us some chuckles, but it wasn't as "personally incorrect" as everyone wanted. I think we will have to play this game a few more times with more people to see how it really is as a party game.
The questions are easy to answer because they are just short words or phrases. This made voting quick. We were mixed on whether we liked inserting a name onto each card. It did tend to make a personal touch and did make you play differently depending on whose name was inserted.
The voting aspect of this game was a bit neat since it is majority rules, instead of reader rules, but was a bit tricky with the small amount of people that we played with. There are different rules if you play with fewer people, so we might have to try it that way. There is a bit of strategy in the voting, as you can't vote for your own card, and the last vote doesn't count. I would recommend trying to get everyone to drop their votes at exactly the same time, so you don't know what other people are thinking!
I think this is a good game for those in their early- to mid- 20s. I would play this game again, but only time will tell if it will be a game that people are asking to play when we get together.
*Disclaimer: I received a copy of this game for review purposes, however, all thoughts are my own or those of the people who played with me.*